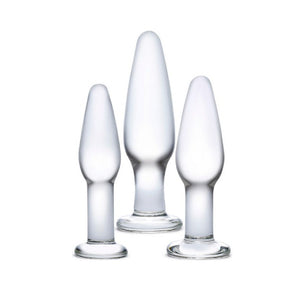 Classic, smooth comfy shape
Insertable Lengths: 4", 4.75", 5.25"
Diameters: 1.25", 1.5", 1.6
Tapered tip for easy insertion
Hypo-allergenic
Made from strengthened borosilicate glass
The Gläs 3-piece anal training kit is a great place to start if you're new to anal play and want to build up to intercourse or larger bum toys. The set comes with 3 elongated plugs shaped for comfort with a wide, flared base. Made from toughened borosilicate, these glass butt plugs are super strong, smooth to touch, and aesthetically pleasing. Being clear glass, they are gender-nonspecific and would suit just about anyone. Sex Siopa absolutely adore this set. 
Caring for your new toy: Looking after your Gläs sex toys is easy. Just wash in warm, soapy water and towel dry. Be sure to keep them in their handy storage pouch.
Lubricant: One of the great things about sex toys made from glass is that they are compatible with every type of lubricant. However if you're using a condom around them, we recommend using a good water based lubricant like Sliquid Sassy.