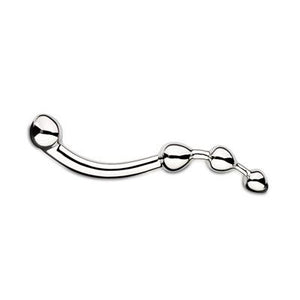 Njoy's most versatile design
Length: 8"
End A (& largest bead): 1"
End B: .75"
Medical grade stainless steel
Can be cooled/ warmed for added sensation
Njoy is the world's best loved manufacturers of medical-grade steel toys, and the Fun Wand is by far their most versatile design. It boasts a smooth bulbous end and graduated beads situated on a beautiful S-curve, giving you a variety of stimulation options. Steel is a fabulous material not just because of it's lovely weightiness, but also because it can be warmed up or cooled down for added sensation. However do not freeze or heat up the toy too much. All Njoy toys come in a sturdy, luxury wooden storage box.
Stainless steel toys like the Funwand can be enjoyed with a variety of different lubricants - water based like our Sliquid H2O, silicone hybrid like our Sliquid Silk, or oil based like our Yes Oil. Please remember though never to use an oil-based lubricant if you are using a latex barrier over your toy.