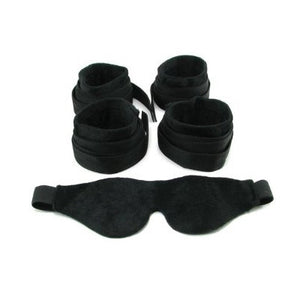 4x Soft fabric restraints
Soft fabric & elastic blindfold
Perfect intro to bondage
American brand, Sportsheets, have put together this fabulous bondage kit for beginners. If you're new to kink and BDSM, we recommend this kit as a great place to start. It comes with 4 fabric and velcro restraints which are sturdy yet comfortable and non-threatening. 
Remember when using restraints, do not allow the restraints to be so tight as to cut off circulation and never leave the restrained person in a room alone. Always play Safe, Sane, and Consensual. If you suffer from Diabetes or other circulatory or nerve conditions, please be aware that you are at greater risk of injury from kinky activities such as impact play and bondage.