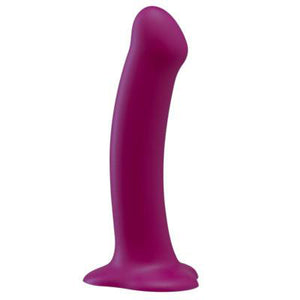 Semi-realistic, long for fans of deep penetration
Length: 7.25"
Diameter: 1.5"
Firm but flexible
Made from 100% silicone
Wide base for use with harness
The Fun Factory Magnum is a decadently long 100% silicone dildo made for fans of deep penetration. It's flexible without losing the necessary firmness, easy to clean and hypoallergenic. The stable base makes the Magnum handy to use alone or with a partner and suitable for harnesses.
Be sure to use a good, water-based lube with this toy like Sliquid Sea, or Sutil Rich To clean, simply use warm, soapy water or boil to disinfect. Remember to towel dry and store somewhere free from lint and dust.
About Fun Factory: Founded in 1996, Fun Factory have a long history of designing and producing top quality, bodysafe sex toys. The mission of the Fun Factory founders was to develop sex toys with the highest quality and functionality standards combined with fun and sensuality, and thereby entice women and men to passionately use their toys without shame. The idea was a hit, and now nearly 20 years laters, Fun Factory are one of the largest producers of erotic goods in Europe.