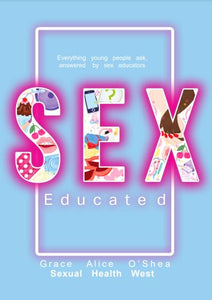 Relationships & Sexuality Educator Grace O'Shea (aka 'Grace Alice') has authored an amazing book "Sex Educated", supported by a team of RSE educators as editors.
The book idea came from answering thousands of questions over the years of teaching RSE in classrooms, giving a unique and invaluable insight into the mind of young people; their worries, the curiosities, their fears and what information they are unearthing on the internet. As we know the best sex education is not based solely on answering questions with facts and figures. It is rooted in empathy, respect, kindness, inclusivity, justice, patience and passion. Yes it's about bodies, but it's about hearts and minds too. Sex, sexuality and sexual health are integral parts of being human, healthy and happy.
This book meets the needs of young people in Ireland where they are now, and tells them what they want and need to know with evidence-based, factual, age-appropriate information.
So, if you have or know any young person, one who is trying to figure out what feels good or right for them, who isn't sure who they are attracted to, who doesn't identify with the gender they were assigned at birth, or who or wants some guidance on how good relationships even work, this book is for you.