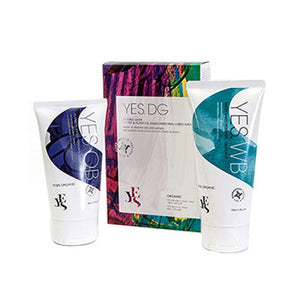 1x Yes Water Based 100ml
1x Yes Plant Oil Based 80ml
Both Certified Organic
Glycerin & Paraben free
Small enough for carry-on luggage
The Yes Double Glide set gives you the best of both worlds with a 100ml bottle of our Yes Water Based lubricant, which is safe for use with all condoms and toys; as well as an 80ml bottle of Yes Plant Oil Based lubricant which melts like butter in your hands. While oil based lubricants should not be used with condoms as it degrades the material, we highly recommend it for use with any of our bodysafe toys and for hand jobs and masturbation!
Both bottles of Yes lubricant are small enough to bring on carry-on luggage, so you can take them wherever you go!
Yes Oil Based Ingredients: Sunflower seed oil, Shea butter, Sweet almond oil, bees wax, Cocoa seed butter, Vitamin E.
Yes Water Based Ingredients: Aqua (water), Aloe barbadensis (Aloe vera)*, Cyamopsis tetragonolobus (Guar Gum)*, Ceratonia siliqua (Locust Bean Gum)*, Linum usitatissimum (Flax extract)*, Phenoxyethanol, Potassium sorbate, Xanthan Gum, Citric acid.
*Organically grown ingredients