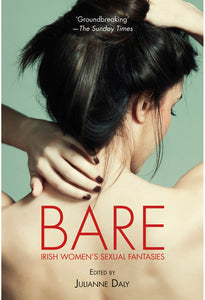 Collection of Irish women's sexual fantasies

Foreword by Sex Siopa owner, Shawna Scott :)
Inspired by 1973's bestselling book My Secret Garden by Nancy Friday, Bare seeks to reveal the most intimate fantasies of women of every age. Author/editor Julianne Daly conducted a comprehensive survey of women living in Ireland, asking them to share and describe their sexual fantasies in explicit detail. There's a treat for native Irish language speakers, as one fantasy is written entirely as Gaelige!
With a foreword by Shawna Scott, owner of sexsiopa.ie, Bare strives to shine a spotlight on a topic that was once  (and often, still is) considered taboo. Opening a new, untainted dialogue on women's sexuality, the stories vary from the mild, to the surprising, to the provocative, with many beautifully written. These stories are written by women, for women, providing a riveting glimpse into the modern women's innermost sexual thoughts.