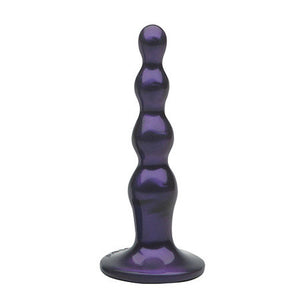 Length: 4.95"
Diameter: 1" Maximum 
Firm but flexible
Made from 100% platinum silicone
Wide base designed for harness play
The Ripple Small is a great first anal toy. Its graduated design is starter size - smaller than a finger tip to start, and 1" across at the widest point. The wide base also makes it fantastic for harness play. 
Caring for your toy: To clean your Tantus Ripple Small, use warm soapy water or boil to disinfect. Towel dry and store somewhere free from lint.
Lubricant: Be sure to use a good, water-based lube with this toy like Sliquid H2o, Sliquid Sea, or Sliquid Organics Natural Gel.
About Tantus: All Tantus products are made from 100% platinum silicone. This means they are hypoallergenic, non-toxic and free of phthalates. It also means that they are made to last a lifetime with minimal care. Tantus began as a company in 1997 when there were less than 10 manufacturers of silicone sex toys world-wide, and now they are one of the top toy companies internationally. If you couldn't tell already, Sex Siopa are big fans.