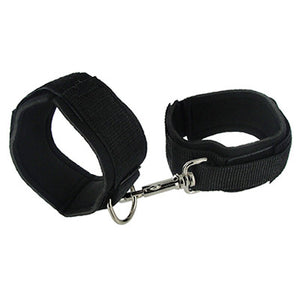 Great for beginners & experts alike
2 soft neoprene & Velcro cuffs
Nickel-free metal connector
The Sportsheets Soft Cuffs are a great way to incorporate bondage into your bedroom repertoire whether you and your partner(s) are newbies or kinky experts. The Sportsheets range was created to make playing with power exchange more comfy, affordable and accessible to everyone. The Soft Cuffs kit comes with 2 Velcro cuffs and a nickel-free metal connector that's easy to take on and off, yet secure. 
Remember when using restraints, do not allow the restraints to be so tight as to cut off circulation and never leave the restrained person in a room alone. Always play Safe, Sane, and Consensual. If you suffer from Diabetes or other circulatory or nerve problems, please be aware that you are at greater risk of injury from kinky activities such as impact play and bondage.