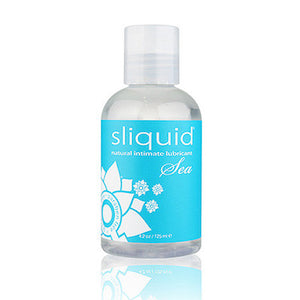 Water-based & water-soluble
Glycerin & Paraben free
Infused with natural seaweed extracts
Toy and condom friendly
100% vegan
pH balanced neutral
125ml
Sliquid Sea is a gorgeous thick, water-based gel lubricant that is infused with natural seaweed extracts (Carrageenan, Nori, and Wakame). It's thick consistency makes it a great all-purpose lube and an excellent choice for anal sex. Sliquid Sea is made from cotton cellulose and is totally unscented. Like all lubes in the Sliquid range, Sea is glycerin & paraben free, cruelty free and 100% vegan. To reactivate your Sliquid, just add a few drops water.
This lubricant came highly recommended by sex educator and blogger, Lorax, but it's also a favourite of Epiphora as well.
Ingredients: Purified Water, Plant Cellulose (from cotton), Carrageenan, Nori, & Wakame (seaweed extracts), Cyamopsis (guar conditioners), Potassium Sorbate, Citric Acid
About Sliquid: Sliquid began as an intimate lubricant company, created by founder Dean Elliott. As they say, necessity is the mother of all invention, and Dean's wife was one of the many women who have sensitivities to glycerin and the other questionable ingredients commonly used in lubricants.
So, Sliquid was born, first as an idea, then as a reality. Formulated by sensitive women, for sensible women became a mantra for Sliquid, and the company vowed to always put the safety and comfort of their customers first, regardless of cost, and to never formulate with sugars or petrochemicals. Today, the company boasts a product line of over 60 items, all formulated vegan safe and female friendly.